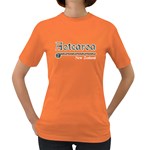 Aotearoa with Paua Design Women's Dark T-Shirt by Maori Creations
The lettering as well as the bar in this design is done in a Paua design pattern.

Paua are found all around the coastal waters of Aotearoa, New Zealand. The further south the paua are, the colder the water is and the colours are darker.



More Info / Purchase this product from Maori Creations
-
View other Maori Creations products
in the Maori Mega Mall

Visit Maori Creations website for their full range of products
---
<< Back to the T Shirts category